Nissan Service FAQs
If you're looking for a reliable auto repair shop nearby, turn to the professionals at the Nissan of Union City service center. We have you covered with anything from routine car maintenance to auto repair essentials so that you can enjoy a vehicle that's always running in great condition. Do you have questions about how often to rotate tires or get a Nissan oil change? Wondering if it's a good idea to service a car at a dealership? Get all the answers you need and more by speaking with our team and reviewing the Nissan service FAQs at our Nissan dealer in Union City.
Nissan Service Frequently Asked Questions:
How often do I need to get my car serviced?
How often a car needs to be serviced depends on a wide range of factors, including how often you drive the vehicle, the conditions in which you drive the vehicle and many more. You can check your car's Owner's Manual to check for factory-recommended service intervals, or you can contact Nissan of Union City for additional details. If you sense something is wrong with your vehicle, you're better off scheduling a multipoint vehicle inspection and having our team take a look. Schedule Nissans service now with us and we'll make sure it's ready for every road ahead.
How often should I rotate my car's tires?
We recommend getting auto tire rotations and balancing car tires about every 3,000 to 5,000 miles. It's important to get routine Nissan tire rotations, as it can help avoid uneven wear and tear on your tires. If you do not rotate a car's tires, it can lead to reduced fuel efficiency and the risk of flat tires or blown tires. To learn more about how often to get Nissan tire rotations, feel free to reach out to our Union City auto repair shop.
How often should I get an oil change?
You should get an oil change about every 3,000 miles or every six months. Nissan oil change intervals may vary by model and the conditions in which you drive, but it is important to keep up with routine oil service. By getting frequent Nissan oil and filter changes, you're helping to lubricate your car's engine and extend the life of the powertrain. To claim Nissan oil change coupons or to get a quick oil change in Union City, visit our local auto service center.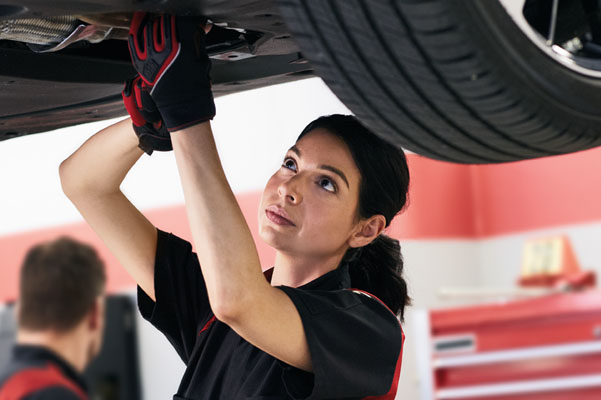 Is it a good idea to service a car at a dealership?
Yes! It is a good idea to service a car at a dealership because we have factory trained technicians and all the state-of-the-art equipment necessary to maintain your vehicle. The Nissan of Union City service center makes it easy for you to get expert Nissan repairs nearby that you can trust. Our team knows Nissan vehicles inside and out, plus we can repair cars from all makes and models. Another benefit of getting auto repairs at a dealership is that eligible service may be covered by your car warranty. We also have benefits like Nissan service specials, auto service financing and more.
If you have additional Nissan service questions, don't hesitate to contact Nissan of Union City. We're always standing by to ensure you enjoy Nissan ownership. Whether you want to schedule auto repairs or ask about Nissan service costs, you can always trust the team at our Union City Nissan dealer. We look forward to helping maintain your car for years to come!