The New Nissan Midnight Edition in Union City is Full of Stars
The 2017 Nissan Midnight Edition will blow you away at Nissan South of Union City in Union City, GA. This dealership already has a great selection of new and used cars, truck and SUVs. It is going a step further with the ultra-slick Midnight Edition from Nissan.
The 2017 Midnight Edition Lineup
This lineup of cars and SUVs is guaranteed to impress. This limited edition features a set of black additions, and a sleek, bold look to really captivate your eye. The new Midnight Edition includes the Sentra SR, the Altima SR, the Maxima SR, the Pathfinder, Murano, and the Rogue. Each includes premium features, and exclusive features not available to other car owners. Some of these feature include exclusive black alloy wheels, black outside mirrors, black rear spoilers, black splash guards, black roof rails, chrome rear bumper protector, black rear diffuser, and more! Nissan South of Union City, GA has a smoking set-up for you to drive away in.

Fuel your fun with Midnight
The 2017 Midnight Edition Lineup is not just awesome to look at, but is accompanied by the top features for each car and SUV package. Also, the cars and SUVs in the Midnight Edition are some of the most impressively rated and awarded vehicles on the market. The Sentra SR is the real deal, awarded IIHS top safety pick, and is a clear standout with its aerodynamic design. The Altima SR is one of the most noticed cars in its class. It also got an IIHS top safety pick plus, and is a genuine symbol of what great car value standards are set at. The Maxima SR shows how strong the Nissan brand I with yet another IIHS top safety pick plus, and the luxuriousness of a top of the line sedan choice. These turbo charged picks are only half of the lineup! The Nissan Murano features premium design molded with modern accessibility. With very high safety ratings, the Murano is full of high tech features that improve your quality of life. The Nissan Pathfinder gives you major traction with its heavy duty capacity, now with a suave new look. Finally we have the Nissan Rogue, which is one of the finest SUV crossovers on the market. It has everything, from stellar engineering and design, to superior handling and accessibility. Every single SUV is also an IIHS top safety pick!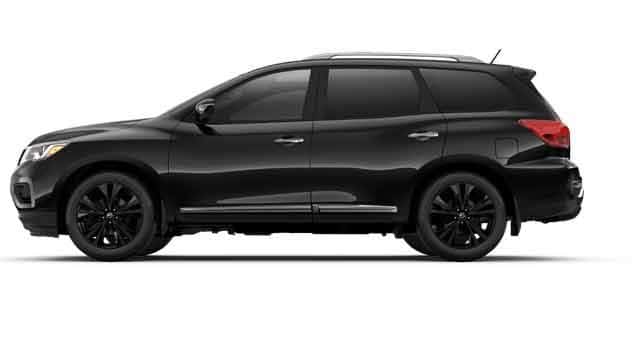 Visit Nissan South of Union City Today
With all of these top tier cars and SUVs, it should be an easy decision. However, if you need help don't be afraid to contact Nissan South of Union City. They have a friendly and professional staff that will help you find what suits your tastes best. If this amazing Midnight Edition Lineup isn't for you, they still have outstanding deals of the year on new and used cars, trucks, and SUVs. Contact Nissan South of Union City, and schedule a test drive today!